Hello World!
My name is Justin Chan Wei Ming. I was 3.12kgs when I came to this world on the 10th September 2008.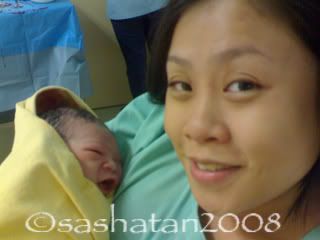 This is my very tired mami. She went to the hospital at 11 pm at night and I came 12 hours later. At first doctor said she wanna cut my mami's tummy and take me out. Then I heard dadidi and mami keep asking me to go to the light so that doctor don't need to cut her and take me out. So I went to the light and I saw them.
This is my dadidi. He was next to my mami all the while. He must be very sleepy...
This is my kor kor Jayden. He was at Boh's house when I came out. He said sayang baby and hit my head, so I cried a little....But I know he loves me.